What is Yin Deficiency?
In Traditional Chinese Medicine, Yin refers to the aspect of the body that moistens and nourishes. It is considered cool, heavy and wet in nature. Yin nourishes the joints, the mucous membranes, and the gastrointestinal tract. Yin deficiency occurs when lifestyle choices deplete Yin quicker than the body can replenish it. Yin decline also occurs as reproductive hormones decrease. 
Peri-menopause is a stage in the reproductive cycle when the ovaries gradually decrease the production of estrogen. Menopause occurs when the menstrual cycle stops for twelve consecutive months. This usually happens in a woman's fifth decade of life. However, some women can enter menopause early when the ovaries are removed, diseased or no longer produce enough estrogen to support a menstrual cycle.
Hormone replacement therapy (HRT) is the common western medical approach for managing estrogen and progesterone levels. The benefits of HRT include greater skin elasticity, improved vaginal moisture, decreased hot flashes, moodiness and disturbed sleep. However, scientific studies show a link between HRT and estrogen related breast cancer. The good news? Woman have many alternatives for effectively managing menopausal symptoms without the risks associated with HRT. Acupuncture, Chinese herbal medicine, dietary and certain lifestyle changes are great tools for managing common symptoms associated with menopause. These tools can make the passage into menopause an easier transition.
The following is a suggested guideline of foods to decrease or avoid. They are hot in nature and can diminish Yin: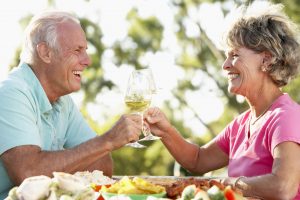 Hot peppers (like chillies)

Garlic
Cinnamon, cloves
Ginger
Onions, leeks, shallots
Red meats (beef, lamb)
Caffeinated beverages (tea, coffee, soda)
Smoking
Alcohol
Add the following foods to your diet. They are Yin in nature and help nourish Yin:                                      
Nuts and seeds (

black sesame, almonds, walnuts, pumpkin)

Fruits like apples, pears, coconut, mango, cherries, bananas

Olive, flax or almond oils

Honey

Cooked, dark green veggies (spinach, kale)

Legumes (black beans, mung beans, adzuki beans, string beans)

Cooked mushrooms

Oily fish high in B12 (sardines, salmon, mackerel)

Zucchini and squash

Sweet potatoes & yams

Small amounts of yogurt, dairy, tofu             
Build your plate using the "Holy Trinity" as a guide:
A healthy fat (olive oil, coconut oil, avocado, nuts)
A veggie and/or fruit
A healthy protein (lean meat, fish, legumes, almonds, walnuts, unsalted pumpkin or sunflower seeds). 3-4 servings per week is best.
Try to eat meals at consistent times of the day. If you know your day will be filled with activities, pack your meals the night before in easy to travel containers. Healthy meals contain 40-60% cooked vegetables, 30% complex carbohydrates and only around 10% protein.
Try the Following Yin Nourishing Recipes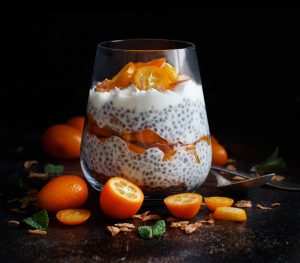 Fruit Layered Chia Pudding Parfait
* 15 min prep time; 4 hours chilling time; Serves 6
1 &1/2 canned low fat coconut milk
1/2 cup unsweetened soy milk
2 tsps apple pie spice mix
1 tsp vanilla extract
1/8 tsp salt
7 peeled bananas
14 kumquats (peel 8)
1/3 cup chia seeds
1&1/2 cups greek yogurt, vanilla or plain (can substitute with a non-dairy yogurt)
3 tbsp shredded, unsweetened coconut
3 tbsp sliced almonds
Step 1:
Combine coconut and soy milk with apple pie spice mix, vanilla, salt, 8 peeled kumquats, and 4 bananas cut in half. Place mix in a blender and blend on high until smooth.
Step 2:
Combine chia seeds with the blended mix in a large mixing bowl. Hand mix all ingredients until well combined. Cover bowl, then place bowl in the refrigerator to set. After 1 hour, mix the pudding to make sure all the chia seeds are incorporated. Let chill for an additional 3 hours (or over night).
Step 3:
Once the pudding sets, slice remaining bananas and unpeeled kumquats. Set aside a small amount of sliced fruit for topping each serving. Then, layer 3/4 cups of pudding the sliced fruit and 1/4 cup yogurt in 6 glass mason jars, parfait cups or small bowls. Sprinkle the top of each serving with the shredded coconut, sliced almonds and remaining fruit slices.
Warm Kale & Black Bean Salad
* 30 minute prep & cook time; serves 4
1 cup of canned black beans (rinsed and drained)
1/2 cup pancetta, chopped or diced
1 tbsp olive oil
2 small cloves garlic crushed, grated or chopped fine
5 cups kale rinsed, stemmed and roughly chopped
2 tbsp water (may substitute chicken or veggie broth)
1/4 cup tamari
1 tsp ground cumin
1/2 tsp ground coriander
1/2 of a lemon, seeded
Salt & pepper to taste
Black sesame seeds (to dress each serving)
Step 1:
Heat the olive oil in a soup pot, over medium-high heat. Add the pancetta quickly browning each side (about 2 minutes). Add the garlic and cook for 1 minute. Add the kale and the water (chicken or veggie broth can be substituted for a more savory flavor). Mix well.
Step 2:
Add the black beans to the pot and season with tamari, cumin, coriander, salt and pepper to taste. Mix everything well. Cover the pot, lower the heat and allow it to cook for 20 minutes or until the kale is tender (stirring occasionally). Remove from heat, squeeze half a lemon into the kale, and mix well.
Serve warm in bowls, with a drizzle of olive oil, and a sprinkle of black sesame seeds.